Time Collection Devices
Our Software
Totaling/Computerized
Top Loading
Side Loading
---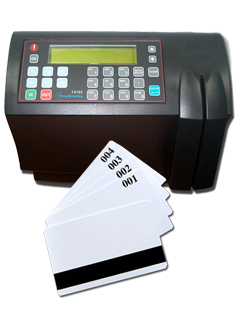 TA 785 Card Swipe
The durable, reliable solution.
Save Time & Money By Automating
Instantly increase payroll accuracy
Prevent unauthorized overtime
Uses Cards: Bar Coded, Magnetic or Proximity
Communications: Ethernet, Serial, Modem
Supports Power over Ethernet (option)
Return on Investment in less than a year
Integrated Operational Battery Backup



Questions? Call (718) 784-4900.
Documentation
Specifications
Professional Services:
Clock Installation (Nationwide)
On-Site Repairs (NYC Area)
In-House Support Team
Software Training/Configuration
Project Implementation
Software Database Hosting
Certified Repair Center

Dimensions:9.8"W x 6.7"H x 3.7"D
Weight: 2.5 lbs.
Power supply: 110/230 Vac + 10%, 100mA
Card Reader:Magnetic Stripe (track 1,2 or 3);Bar Code (3-of-f9, 2-of-5, 128); Proximity Reader (26, 27, 32, 34, 36, 37, 42, 44, 48 and 86 Bits)
Ambient temperature: -20°C - 60°C
Display: 2x16 LCD backlit Alphanumeric with Decimal Point
Communication: Ethernet (10/100) ; Serial (RS232) ; Modem (14.4 Baud)

Memory: 512K RAM, Battery Backed
Humidity: Up to 95% RH
The Card Swipe Process in 3 Simple Steps:
Employee punches in/out by swiping card (Magnetic, Bar Code, Proximity Cards)
Punch data is stored in the clock until downloaded into Time and Attendance Software.

Software administrator "polls" clock and retrieves employee punches.
Punch data is reviewed and any necessary overrides are made, such as fix a missed punch.
Administrator generates weekly time card report for review.

Once time card reports are approved, administrator generates a payroll export.
Export file is saved and imported into payroll software or web application.
Employees checks are processed 100% accurately every time.
Our Time and Attendance Software Brings Your Business To Life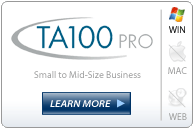 Our most popular software to date. This powerful application was designed to be a simple to use, cost effective solution that automates all of your time and attendance needs. TA100 Pro automatically calculates employee time using your specific payroll policies and provides valuable management tools to help control over-payment and ensure proper distribution of labor costs.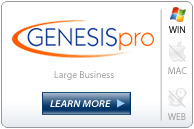 Take TA 100 Pro to the next level. Genesis Pro helps optimize productivity and better manage your bottom line by automating not only your time and attendance, but also job costing, benefit administration, employee review processing, access control, and more. Genesis Pro also produces valuable management reports that help control over-payment of employees and distribution of labor.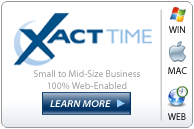 Access your employee's data from anywhere in the world. All you need is an internet-ready computer. This software has been developed with the travelling executive in mind. Do your payroll without even going to the office. No installation necessary, all you pay is a monthly fee.

Thank you! We have received your message. An email has been sent to address provided. If you do not receive an email, please refill the form by refreshing page, or call (718) 784-4900 to discuss.
Request Your Quote Today: