Time Collection Devices
Our Software
Totaling/Computerized
Top Loading
Side Loading
---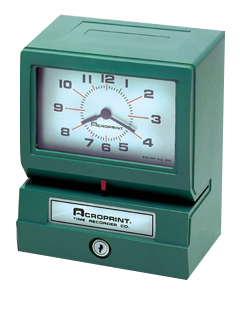 Acroprint 150
Durable, Automatic Mechanical Time Clock
Dependable — designed to provide years of trouble-free service. Carries a lifetime typewheel guarantee, and 1-year warranty for the rest of the materials.
Economical — uses widely available standard time cards. Automatic ribbon feed and reverse insures long ribbon life.
Durable — withstands harsh environments and thousands of print registrations per day.
Versatile — offers a variety of print registrations to meet specific applications. Month typewheel available in English (standard) or Spanish (special order); other options available.



Questions? Call (718) 784-4900.
Documentation
Specifications
Professional Services:
Local Installation
Programming & Setup
Product Support
Certified Repair Center
Loan Units
Dimensions:10"W x 8"H x 6"D
Weight: 11 lbs.
Power supply: 115 VAC
Ambient temperature: 40°F - 110°F
Humidity: 20% - 80%
Mounting: Table or Wall
Printing:Automatic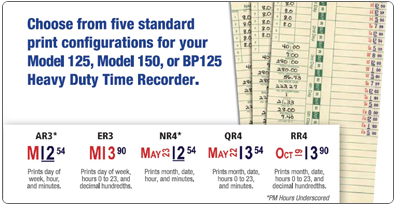 Suitable for all environments

Acroprint 150 time clocks are suitable for time and attendance tracking, job costing, time and date recording and many other applications. This clock is an automatic-print time recorder that accepts standard time cards. The sturdy print mechanism is activated by inserting a time card, which allows for convenient one-hand operation. This model comes with a large, easy-to-read analog clock face and a tough, rust-resistant case.
See Also: Amano MRX-35, Amano TCX-21
Need a higher level of automation? See the HandPunch.


Thank you! We have received your message. An email of this form has been sent to email address you provided. If you do not receive an email, please refresh this page to refill the form again, or call 718-784-4900.
Request Your Quote Today: