Time Collection Devices
Our Software
Totaling/Computerized
Top Loading
Side Loading
---

Use XactTime Web Based Time & Attendance Software with:
100% Web Based (ASP) - Simply Connect to the Internet
Available in both Hosted & Licensed Models
Time America's XactTime is a simple to use yet powerful time and attendance solution that allows you to automate your company's timekeeping and attendance tracking. XactTime completely eliminates paper timesheets, which are the root of most payroll nightmares! XactTime® gives companies an easy way to automate their workforce management processes. Accessible from any computer with Internet access, XactTime provides the tools to help Supervisors and Management know exactly how their payroll dollars are being spent and where labor resources are being utilized. XactTime provides a user-friendly self service point for your workforce. Employees can do things such as clock in and out, review schedules, transfer labor hours, submit time sheets, check benefit accruals, and submit time off requests – all from the convenience of the Internet. Labor data is immediately stored in XactTime's database where it is available to managers on a real-time basis.
The XactTime's powerful reporting system provides you with the tools to better manage your labor force. XactTime's reports help you avoid unauthorized overtime, track employee status, track benefit administration, control departmental costs, monitor staffing, perform job costing, and much more.
The standard, automated time clock polling and report generation capability allows you to define a processing schedule. XactTime will poll the time clocks, process reports and even email them to supervisors automatically without operator intervention.
Eliminate Payday Panic! Know exactly where your employee's time and dollars are spent by implementing your rounding rules, not your employee's. By removing human error, accurately reporting employee hours and dramatically reducing the amount of time spent on payroll preparation, XcatTime will pay for itself in less than one year!
Benefits
---
Eliminates adding up time cards
Eliminates missing punch overpayments
Compiles employee data into a multitude of informative reports
Helps develop employee schedules
Grows to meet your expanding business needs
Breaks down employee time by Division, Department, Job, Step, Operation and Task.
Automates Attendance Tracking, the Calculation of Employee Time, & Wages and Tracks Exempt Employees
Applies Your Pay Rules
Supports An Unlimited Number Of Shifts, Pay Categories, Pay Rules, and up to 15 levels of labor distribution
Provides Extensive Payroll And Management Reports
Runs from your favorite browser
Exports Hours Directly To More Than Thirty Popular Third-Party Payroll Providers
Supports An Unlimited Number Of Data Collection Terminals
3 Levels of approvals – Employee, Supervisor & Administrator
Powerful security configurations
Employees can review hours, schedules and benefit balances
Real-time management reporting
Automated Employee Leave Request
Payroll Automation:

Uniformly and comprehensively applies an unlimited number of pay policies and shifts to time and attendance data.

Ease of Use:

XactTime is completely browser driven. For ease of operation, the system allows each user to arrange the information in an order that is convenient for them. Color-coded notations with icons on the electronic timecard easily identify exceptions.

Strategic Reporting:

There are over 75 reports available, which can be run by pay period or by any selected date range. Reports can be displayed on screen, printed, emailed, or sent to a data file.

Customize:

XactTime offers administrators the ability to change the names of key fields within the menu and reporting system. In addition, XactTime allows users to define unlimited system fields in the employee master record.

HR Functions:

Tracks employee attendance, employee tardiness, department transfers, job transfers, schedules, automates employee time and wage calculations.

Imports/Exports:

XactTime comes standard with an import/export feature that allows users bring data into the system and export data out to a third party payroll system or other software packages.

Approvals:

3 levels of approvals by employee, supervisor and administrator.

Security:

Unlimited security levels definable down to add/edit/delete/view rights per feature. Filters allow supervisors to access only their respective employees. XactTime allows the temporary assignment of employee groups to alternate supervisors.

Autoprocess:

Allows users to set a specific date/time to poll the information from the data collection devices, as well as run reports and print or email them directly to supervisors.

Benefit Accruals:

Allows you to define benefit accrual calculations that automatically update your employee's accrual balances.

Employee Messaging:

XactTime allows you to send messages to employees from your PC by employee, group, department or the entire company.

Employee Time Off Request:

Employees can request time off within the system which is automatically routed to their manager for approval.

Quick Scheduler:

This scheduling tool makes quick work of scheduling by day, or week on an individual or group basis via schedule templates.

Time Entry Options:

XactTime supports standard web entry, data collection terminals, Biometric terminals and Telephony.

Easy of Deployment:

Whether you prefer a licensed or hosted solution, XactTime offers you the flexibility to automate your labor management processes with speed and accuracy.
System Information
Available as a licensed application running on your internal web server or hosted at a world-class data center
World-class networking including a fast gigabit Ethernet backbone.
Full network redundancy.
In-depth 24x7 monitoring and dedicated prevention systems ensure your network perimeter remains secure.
Enterprise-class backup and restore technology protecting your data.
Compatible with Windows, MAC, Linux and browser-based POS systems
100% HTML: No Java applets, Active X controls or associated security risks
Platform

Desktop
Desktop & Enterprise
Web Browser Based

Deployment

Licensed to Client
Licensed to Client
Web Hosted (ASP)

Time Card Editing

Built-in Payroll Export

Employee Badges

Exception Reporting

Auto DST Adjustment

Temporary Employees

Department Transfers

Job Transfers

(15 Levels Standard)

Step Transfers

Operation Transfers

Task Transfers

Unlimited Shifts

User Defined Policies (Unlimited)

Break Punching

Lunch Punching

Consecutive Day Overtime

Daily Overtime

Built-in System Backup

Benefit Entitlement Tracking

Built-in Archive & Restore

Division Breakdown

Punch Rounding

Attendance Tracking

Display Employee Hours at Terminal

Display Employee Benefits at Terminal

Unlimited Shifts

Approval Editor

Status Board

Salaried Employee Tracking

Global Transactions

Multiple Schedule Adjuster

Shift Differential

Auto-Polling/Auto-Reporting

Employee Messaging

Email Reports

Color Coded Exceptions

Print Reports to PDF forma

Auto Holiday

Edited Punch Flagging

Piece Rates

Per Diem

Budgeting

Forecasting

Levels of Overtime

3
3
2

Bonus Calculator

Global Entry

Timecard Approvals

Report Export

Charge Rates

Holiday Groups

Company Logo on Reports

Leave Requests

Software Modules:

Multi User

(Up to 25)

(Up to Unlimited)

(Unlimited)

Increased Employee Support

(Up to 800)

(Up to Unlimited)

(Unlimited)

Archive and Restore

(1)

(1)

(1)

Payroll Exports

(1)

(1)

(1)

Auto-Polling/Auto-Reporting

(1)

(1)

(1)

Messaging

(1)

Bells

(1)

Job Costing

(1)

Level Validation

Access Control

Profile Lockout

(1)

Benefit Accruals

(1)

Occurrence Ratings

Hand Readers

(1)

PC Clock

(1)

Web Clock

(1)

Portable Terminal Interface

PDA Clock

Multiplexer Polling
(1) Included in Base Package

Note: Only major features are shown. All systems contain a significantly higher number of features and functionality.
Use XactTime Web Based Time & Attendance Software with: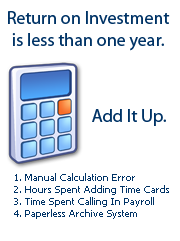 Implementation & Support Services:
Central Time Clock, Inc. provides one-on-one training and support for all of its software packages. Processing your payroll is a serious role in any company and transitioning to an automated solution can be daunting. That's why we take the necessary steps in order to ensure our clients success including setup of your entire database and pay policies for you. All our clients need to do is turn on their computer, we do the rest.
Our Professional Services:
Software Training (On-Site or Remotely)
Employee Database Setup
Unlimited Telephone Support
Free Software Service Releases