Time Collection Devices
Our Software
Totaling/Computerized
Top Loading
Side Loading
---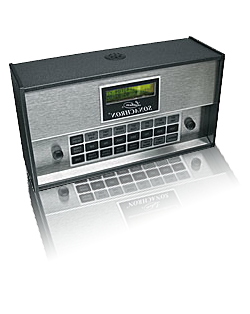 Lathem Sonachron
Stand-Alone Bell Ringer
Program the weekly schedule with up to 1,440 events.

Signal duration can be set from 1 to 99 seconds .

Optional 4-digit security code entry can be required to prevent unauthorized tampering of schedules.

An internal battery retains memory and time-keeping during power failures lasting up to 10 days. Battery recharges automatically when power resumes.

Quartz time base provides accuracy of ±2 minutes per year.


Documentation
Specifications
Recommended Industries:
Schools/Education
Manufacturing
Hospitals

Energy
Construction
Input Voltage: 115V AC (220 optional)
Input Frequency: 50Hz/60Hz
Input Power: 20 Watts Max.
Standby Power: 1.2 Amp Hours, 6V battery included (Rechargeable)
Standby Time: 10 days
Timing Accuracy: Per line frequency
Number of Events: 1440 any combination of weekdays
Signal Duration: Programmable -1 to 99 secs
Daylight Savings: Automatic (Disable by dip switch)
Time Display: 12 or 24 hr selectable
Comm Port: RS485 -Receiver
Relays: 10 Amp Dry Contact
Signal Circuit: Single
Temperature Range: O°C to 60°C
Voltage Range: ± 10% of input voltage
Shipping Weight: 7 Ibs. (3.2 kg)
Dimensions: 9.5" W x 5.3" H x 3.3" D (24.1 cm x 13.5cm x 8.4cm)
Holds up to 1440 programmed events for each day of the week.
Accurate, reliable punch data
With a programmable signal control, reliability is everything. You want to set it and forget it. Period. That's exactly why Lathem reliability is second to none. We've designed two distinctly different signal controls, so you can choose the unit that perfectly fits your needs, your premises and your budget. With Lathem reliability and a host of special features, it's no wonder you see Lathem programmable signal controls ringing and sounding horns for schools and workplaces across America.
PC Clock is user friendly
The Sonachron is a dual purpose, single circuit program timer–ideal for signaling horns and bells. Or for controlling the ON/OFF status of electrical devices like HVAC or appliances. Its user-friendly, front mounted keypad lets you program the exact minute and weekday(s) of each event. Manual events can be activated at any time by pressing a single key. Press the LUNCH or BREAK key to start unscheduled lunches or breaks. The warning and final bells will automatically ring at the end of the selected duration.
Improved Functionality
Keypad can be security protected to prevent unauthorized access. Timekeeping accuracy is controlled by power line frequency selectable 50 or 60Hz. Also, during power failures timekeeping is uninterrupted for up to 7 days. Time keeping can be controlled by Lathems' RC Master Clock Synchronizer (RC-MS) to keep the DWA-S time synchronized with the RC Master Clock. The latest and most innovative way to incorporate GPS synchronized time.