Time Collection Devices
Our Software
Totaling/Computerized
Top Loading
Side Loading
---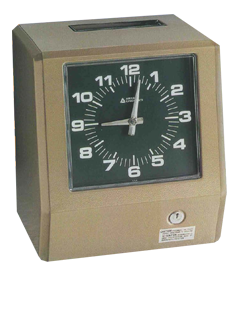 Amano 6800
Limited reconditioned stock available.
Heavy Duty Synchronous Motor
Metal Type Wheels for Superior Print Quality & Durability
Large, Easy to Read Print
Automatic Minute/Hour/Day Change
Cartridge Ribbon
Automatically prints time in proper space to prevent double punching
Desk or Wall Mount
Adjustable to Any Size Clipper Style Time Card



Questions? Call (718) 784-4900.
Documentation
Specifications
Professional Services:
Local Installation
Product Support
Certified Repair Center
Loan Units
Dimensions: 12 5/8"H x 10 1/4"W x 7"D
Weight: 7.7 lbs.
Power supply: 110/120 VAC or 220/240 VAC +/- 10%, 50/60 Hz
Power consumption:3W (average), 30W (maximum)
Ambient temperature: 14°F - 113°F
Humidity: 10% - 90%
The old iron workhorse thats durable. reliable, and built tough.
A heavy-duty automatic time recorder with large analog clock face, the Amano 6800 can withstand th etoughest work environments abnd handle hundreds of punches daily. Central Time Clock still sells, repairs, and supports this discontinued product. Please call (718) 784-4900 to purchase, repair, or trade-in this clock for a more updated solution.
See also: Amano CP-5000, Amano MRX-35


Thank you! We have received your message. An email of this form has been sent to email address you provided. If you do not receive an email, please refresh this page to refill the form again, or call 718-784-4900.
Request Your Quote Today: