Time Collection Devices
Our Software
Totaling/Computerized
Top Loading
Side Loading
---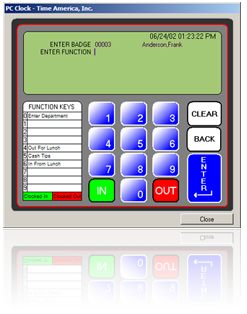 PC Clock Module
A software based time clock.
Module for TA100 Pro or Genesis Pro Software
Eliminates Manual Data Collection Errors
Runs On Your Existing Network
Saves Money Over Conventional Time Clocks
Real-Time Data & Input Validation
User Programmable



Questions? Call (718) 784-4900.
Our Time and Attendance Software Brings Your Business To Life
Accurate, reliable punch data
Time America's PC Clock records employee time, monitors productivity, control access and tracks inventory in a multitude of industries such as retail, health care services, banking, manufacturing,hospitality and many others.
PC Clock is user friendly
It can run on a variety of existing computer networks in your organization to complement the management information systems you already have in place. By automating your data collection process, you can reduce the manpower and mistakes associated with conventional time cards thereby improving your bottom line.
Employees simply enter information through the computer keyboard or optionally via kiosk. Employee feedback is provided through audible accept/reject tones and displayed messages. PC Clock automatically validates job costing entries. When an employee keys or swipes an ID number, it is compared against the database to ensure validity. Additionally, PC Clock will notify you if an invalid entry is made and display the employee name associated with that entry.
Improved Functionality
Your PC Clock is programmed by using your time and attendance system database. Each of its 12 function keys can be programmed to request up to four levels of information. Each piece of information can be validated. PC Clock can be programmed to prompt employees for data input, display employee name, validate job costing entries, and much more.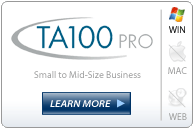 Our most popular software to date. This powerful application was designed to be a simple to use, cost effective solution that automates all of your time and attendance needs. TA100 Pro automatically calculates employee time using your specific payroll policies and provides valuable management tools to help control over-payment and ensure proper distribution of labor costs.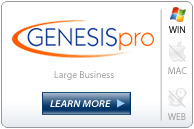 Take TA 100 Pro to the next level. GenPro helps optimize productivity and better manage your bottom line by automating not only your time and attendance, but also job costing, benefit administration, employee review processing, access control, and more. GenPro also produces valuable management reports that help control over-payment of employees and distribution of labor.

Thank you! We have received your message. An email has been sent to address provided. If you do not receive an email, please refill the form by refreshing page, or call (718) 784-4900 to discuss.
Request Your Quote Today: