Time Collection Devices
Our Software
Totaling/Computerized
Top Loading
Side Loading
---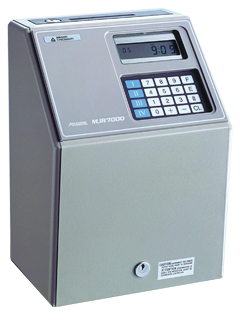 Amano MJR 7000
Computerized Calculating Time Clock
Totals hours for up to 100 employees
Separates regular and overtime hours
Automatically adjusts for Daylight Saving Time
Program zones for late arrival or early departure
Automatic break deduction
Built-in battery backup
Lockout capability
Rounds IN/OUT times



Questions? Call (718) 784-4900.
Documentation
Specifications
Professional Services:
Local Installation
Programming & Setup
Product Support
Certified Repair Center
Loan Units
Dimensions: 6.70"W x 9.2"H x 4.5"D
Weight: 5.5 lbs.
Power supply: 110/120 VAC +/- 10%, 50/60Hz
Power consumption: 4W (idle), 13W or less (printing)
Ambient temperature: 14°F - 113°F
Humidity: 10% - 90%
Clock system: Liquid Crystal Display (date, hours, minutes)

Memory: Data stored for up to 3 years without AC power
Printing: Dot matrix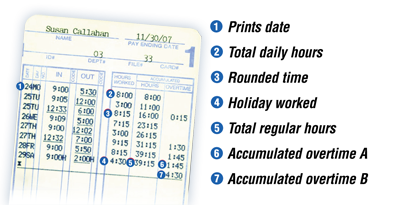 Discover Fast, Accurate Payroll Preparation.
The Amano MJR Series computerized time recorder automatically calculates hours worked and separates regular and overtime hours, taking the "guess work" out of payroll processing. This clock holds up to 100 employees in its internal memory.
Central Time Clock also prepares the clock for you, fully programmed and ready for use, before we install or ship. This durable clock is recommended for rougher work environments with high employee counts.
Have more than 100 employees? Check out the MJR-8000


Thank you! We have received your message. An email of this form has been sent to email address you provided. If you do not receive an email, please refresh this page to refill the form again, or call 718-784-4900.
Request Your Quote Today: