Time Collection Devices
Our Software
Totaling/Computerized
Top Loading
Side Loading
---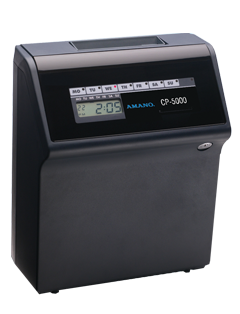 Amano CP-5000
Electronic Time Recorder
Automatic card feeding
Automatic Daylight Saving Time adjustment
80 weekly program steps to activate features
Clearly displays date & time
Two-color printing
Mark sensing technology eliminates overprinting
External signal relay
Built-in buzzer



Questions? Call (718) 784-4900.
Documentation
Specifications
Professional Services:
Local Installation
Programming & Setup
Product Support
Certified Repair Center
Loan Units
Dimensions: 12.3"H x 10.2"W x 6.1"D
Weight: 9.66 lbs.
Power supply: 120VAC ±10%, 50/60Hz
Power consumption: Normal 6W (idle), maximum 60W
Ambient temperature: 14°F - 113°F
Humidity: 10% - 90%
Environment: Indoor use only, dust free, not in direct sunlight

Power Reserve: The optional battery, when fully charged, will maintain normal operations for 72 hours or 300 punches
Printing: Two color

CP-5000 Time Card Printing Sample
Automatic Card Feed. Easy to Clock In & Out.
Amano Cincinnati's CP-5000 Series Electronic Time Recorder is designed as a fully automatic time recorder which eliminates overprinting through the use of mark sensing technology.
An optical sensor detects the previous mark, and time & date are consecutively printed vertically on the time card.
See also: Amano EX Series, Amano MRX-35


Thank you! We have received your message. An email of this form has been sent to email address you provided. If you do not receive an email, please refresh this page to refill the form again, or call 718-784-4900.
Request Your Quote Today: