Time Collection Devices
Our Software
Totaling/Computerized
Top Loading
Side Loading
---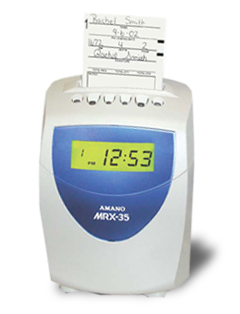 Amano MRX-35
Electronic Calculating Time Clock
Scalable up to 50 Employees
Accumulated totals for regular & overtime hours
Automatic calculation of daily & weekly overtime
Programmable automatic break deductions
Large, easy to read digital LCD display
Easily programmed with the use of program cards
Automatic Daylight Savings Time adjustment
Up to four (4) punches per day



Questions? Call (718) 784-4900.
Documentation
Specifications
Professional Services:
Local Installation
Programming & Setup
Product Support
Certified Repair Center
Loan Units
Dimensions: 6.70"W x 9.2"H x 4.5"D
Weight: 5.5 lbs.
Power supply: 110/120 VAC +/- 10%, 50/60Hz
Power consumption: 4W (idle), 13W or less (printing)
Ambient temperature: 14°F - 113°F
Humidity: 10% - 90%
Clock system: Liquid Crystal Display (date, hours, minutes)

Memory: Data stored for up to 3 years without AC power
Printing: Dot matrix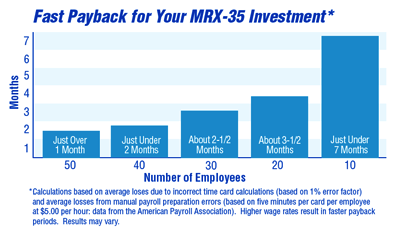 Tired of manually adding up time cards?
The MRX-35 Electronic Calculating Time Clock is the next logical step up from a non-calculating mechanical clock. It automatically totals the hours for up to 50 employees. No more time wasted manually adding up time cards every week. The MRX-35 is fully automatic, reliable and economical.
Central Time Clock also prepares the clock for you, fully programmed and ready for use, before we install or ship. Durable, attractive, clean. This clock is a perfect fit for office environments or small businesses with less than 50 employees.
See also: Amano MJR 7000, Biometric Hand Punch

Thank you! We have received your message. An email of this form has been sent to email address you provided. If you do not receive an email, please refresh this page to refill the form again, or call 718-784-4900.
Request Your Quote Today: