Time Collection Devices
Our Software
Totaling/Computerized
Top Loading
Side Loading
---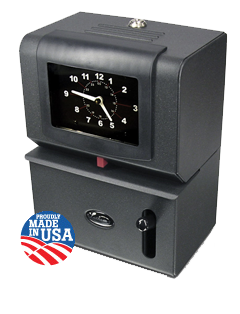 Lathem 2000
Heavy Duty Manual Time Recorder
Industrial-strength synchronous motor
The precision coined steel type wheels offer smooth reliable operation
Automatic ribbon reversal at end of spool for longer life
The large analog clock display is easy to read
The steel case and key-lock provide a durable and tamper-proof installation
Prints the day of week and time in large easy-to-read characters
Right side printing along edge of any size card or form
Optional left hand printing
Mounts conveniently on a wall or tabl



Questions? Call (718) 784-4900.
Documentation
Specifications
Professional Services:
Local Installation
Programming & Setup
Product Support
Certified Repair Center
Loan Units
Dimensions:8.12"W x 10.25"H x 5.25"D
Weight: 13 lbs.
Power supply: 115VAC, 60Hz ; 220VAC 60Hz (option) ; 220 VAC, 50Hz (option)
Ambient temperature: 23°F - 113°F
Humidity: 20% - 80%
Mounting: Table or Wall
Printing:Manual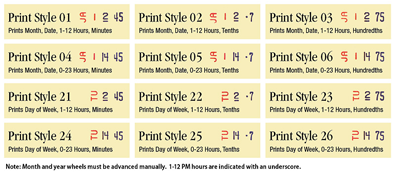 Rugged Design Can Withstand Harsh Environments
With the same features and rugged construction found in Lathem's 4000 Automatic Time Recorder, the 2100 uses manual activation, and a spring loaded print mechanism for instant registrations. The 2100 is fully guaranteed against defects in materials and workmanship for one year.
See Also: Lathem 4000, Amano TCX-21, Acroprint 125
Need a higher level of automation? Check out the HandPunch.


Thank you! We have received your message. An email of this form has been sent to email address you provided. If you do not receive an email, please refresh this page to refill the form again, or call 718-784-4900.
Request Your Quote Today: