Time Collection Devices
Our Software
Totaling/Computerized
Top Loading
Side Loading
---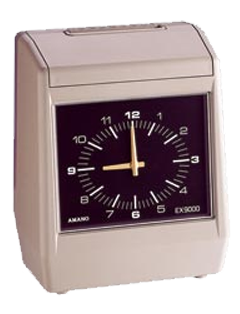 Amano EX-9000
Top Loading Time Clock
Accomodates weekly, bi-weekly, semi-monthly, or monthly pay periods
Adjustable card pocket
Automatic adjustment of Daylight Saving Time
Choice of print format: day or date; AM/PM or military hours; regular minutes, 10ths or 100ths
Built-in lithium battery backup for clock
Full power reserve (optional)



Questions? Call (718) 784-4900.
Documentation
Specifications
Professional Services:
Local Installation
Product Support
Certified Repair Center
Loan Units
Dimensions: 12 5/8"H x 10 1/4"W x 7"D
Weight: 7.7 lbs.
Power supply: 110/120 VAC or 220/240 VAC +/- 10%, 50/60 Hz
Power consumption:3W (average), 30W (maximum)
Ambient temperature: 14°F - 113°F
Humidity: 10% - 90%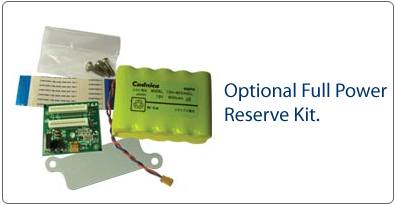 Adjustable card pocket works with your existing time cards...
A heavy-duty automatic time recorder with large analog clock, the EX-9000 prints across or up/down the card. This clock offers full operation during power failure and is ideal for weekly, bi-weekly, semi-monthly, or monthly payroll.
See also: Amano TCX Series, Amano MRX-35
Need a higher level of automation? Check out the HandPunch.


Thank you! We have received your message. An email of this form has been sent to email address you provided. If you do not receive an email, please refresh this page to refill the form again, or call 718-784-4900.
Request Your Quote Today: