Time Collection Devices
Our Software
Totaling/Computerized
Top Loading
Side Loading
---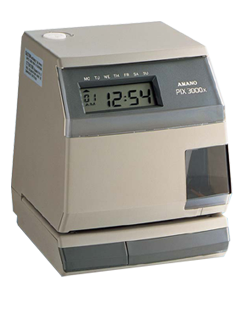 Amano Pix-3000x
Electronic Side Loading Time Clock
Full power reserve keeps clock fully operational for 72 hours or 400 punches
Automatic Daylight Saving Time adjustment
Consecutive and repeat numbering
Easy-to-replace ribbon cartridge
Selectable imprints formats and character size
Prints seconds
Programmable alphanumeric imprint



Questions? Call (718) 784-4900.
Documentation
Specifications
Professional Services:
Local Installation
Programming & Setup
Product Support
Certified Repair Center
Loan Units
Dimensions: 5.9"W x 6.9"H x 6"D
Weight: 6 lbs.
Power supply: AC120V +/-10%, 60 Hz
Power consumption: 3W (normal), 6W (maximum)
Ambient temperature: 14°F - 113°F
Humidity: 10% - 90%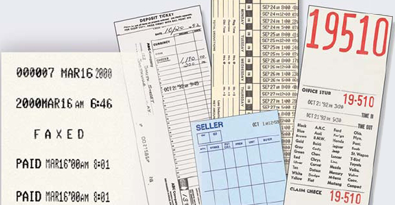 Durable & Automatic Time Recorder
The PIX-3000x is a heavy-duty economical, and fully automatic electronic cost and payroll recorder as well as a time and date stamping machine. Also imprints hours, minutes, seconds and features alphanumeric character printing.
The PIX-3000x works with a Side-Print style time card. Perfect for small businesses, use as a job cost recorder, also functions as a Time-Date-Numbering Stamp. Battery Backup and Auto-Reset for Daylight Savings Time. 
Need OATS Compliant Time Stamps? Check out the Amano TS-3000i


Thank you! We have received your message. An email of this form has been sent to email address you provided. If you do not receive an email, please refresh this page to refill the form again, or call 718-784-4900.
Request Your Quote Today: