Time Collection Devices
Our Software
Totaling/Computerized
Top Loading
Side Loading
---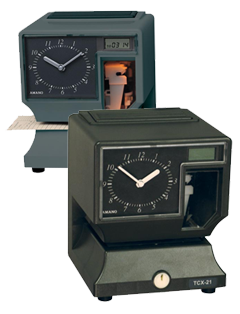 Amano TCX-21/22
Electronic Time Clock
Easy to use, accurate and efficient
Quartz clock accuracy
Easy to replace ribbon cartridge saves time
Cartridge ribbon for easy replacement
Wall or desk mount provides for flexible operation
Automatic or manual print
Automatically changes year, month, date and Daylight Saving Time
Prints time in most formats
Illuminated print window for easy card alignment
Secure key cover lock
Large, easy to read clock dial
Battery backup
Sealed 12V rechargeable battery (TCX-22 Only)



Questions? Call (718) 784-4900.
Documentation
Specifications
Professional Services:
Local Installation
Programming & Setup
Product Support
Certified Repair Center
Loan Units
Dimensions:67/8"W x 8¼"H x 6¼"D
Weight: 7 lbs.
Power supply: 100/120V AC or 220/240V AC +/- 10%, 50/60Hz
Ambient temperature: 14°F - 104°F
Humidity: 10% - 90%
Environment: Indoor use only, dust free, not in direct sunlight

Printing: Single color; automatic or manual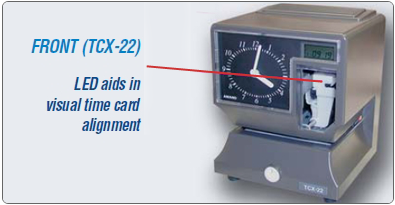 Side Loading Time Clock for Small Business.
Engineered for value, simplicity and durability, the TCX-21 is the optimal choice for mechanical time clocks. This cost-effective electronic time clock delivers quartz clock accuracy and illuminated print window for easy card alignment.
The TCX-22 electronic time clock offers reliability for remote applications. The rechargeable battery-operated model TCX-22 maintains normal operation for one week and/or 5,000 prints, making the unit ideal for use in facilities without AC power available.
See also: Amano EX Series, Amano MRX-35


Thank you! We have received your message. An email of this form has been sent to email address you provided. If you do not receive an email, please refresh this page to refill the form again, or call 718-784-4900.
Request Your Quote Today: