Time Collection Devices
Our Software
Totaling/Computerized
Top Loading
Side Loading
---


Amano BX-1500
Electronic Time Recorder
Easy out of the box setup
Simple programming and operation
Quartz clock accuracy
Automatic card feed/print eliminates operator error
Automatically advances year, month, date and Daylight Saving Time
Prints time in most formats
Surface detection for correct printing position
High quality dot matrixs print for clean, clear printing
Large, easy to read clock dial



Questions? Call (718) 784-4900.
Documentation
Specifications
Professional Services:
Local Installation
Programming & Setup
Product Support
Certified Repair Center
Loan Units
Dimensions:7.5"W x 8.8"H x 4"D
Weight: 5.1 lbs.
Power supply: 110/120 VAC +/- 10%, 50/60Hz
Power consumption: 2W (standby), 8W (maximum)
Ambient temperature: 14°F - 104°F
Humidity: 10% - 90%
Environment: Indoor use only, dust free, not in direct sunlight

Memory: Data stored for up to 3 years without AC power
Printing: Dot matrix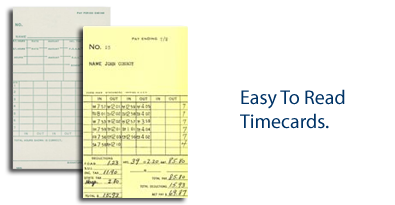 Ready To Use Out-Of-The-Box.
The Amano BX-1500 time recorder provides simplicity, value and affordability to small businesses. This push button operated time clock accommodates up to six punches/columns per day. Just simply press the "In or Out" button that aligns with your desired punch column and insert the card in the top feed.
Table or wall mounting provide flexibility for clock location and the built-in battery backup ensures the clock will not stop ticking!
See also: Amano EX Series, Amano MRX-35


Thank you! We have received your message. An email of this form has been sent to email address you provided. If you do not receive an email, please refresh this page to refill the form again, or call 718-784-4900.
Request Your Quote Today: