OATS Time Stamps
Components
---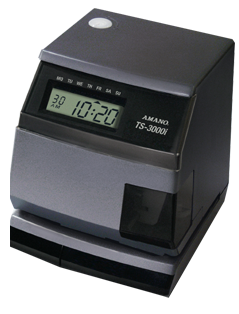 Amano TS-3000i
The New Standard in Time Syncing
A network time stamp, providing automatic time synchronization for validated time.
Assures financial institutions' compliance with FINRA OATS Rule 7430 (formerly NASD OATS Rule 6953 & NYSE 132A)
Automatically syncs directly to NIST or internal/external NTP time source
Stand-alone with Zeroconf Protocol
Minimal IT staff involvement
Replaces PIX-3000xNT and ATC-1000/PIX-3000xN Deployments
The Amano TS-3000i (ASTC3000POE and ASTC3000) OATS Compliant Time Stamp can be configured using a standard web browser, providing a standalone solution with no back-end infrastructure nor connection to business-critical workstations. An ideal, cost-effective solution for small brokerage offiices that require a low quantity of time stamps with minimal setup.
Configure for use with ATVS Software installed on a network server for central management of the deployment over your network (ideal solution for larger deployments from one HQ office up to firms with hundreds of branch offices requiring management of as many devices as necessary).
In other words, for any size deployment, up to 10,000 units, the TS-3000i is the solution for your needs. The most cost-effective, easiest to support, highest quality and the ultimate technology - the TS-3000i is the new standard in OATS Compliant Time Stamps.
The Process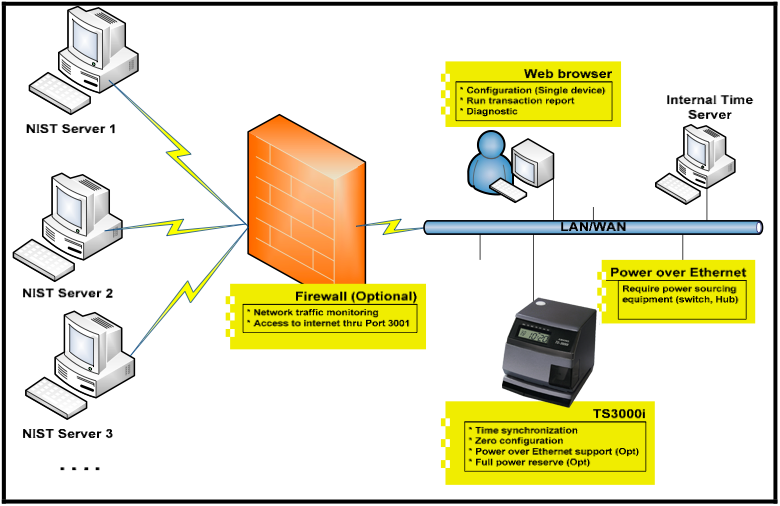 The Truly Automatic OATS Compliant Time Stamp System
The TS-3000i is a true 10/100 auto-negotiating network time stamp that provides users with automatic time synchronization for validated time. This clock will operate as a standalone device on your network, employing easy-to-use time synchronization schedules. Send email and/or SNMP trap alerts for failures and perform backups to maintain external records for compliance. The clock also generates reports on time sync events for use during an audit.
ATVS Software for central management, monitoring, support and record maintenance, of any quantities of Amano TS-3000i, PIX-3000xN, PIX3000xNT time stamps. Over 300 financial firms nationwide have thousands of Amano OATS Compliant Time Stamps in use that Central Time Clock implemented and who now fully supports and services.
Let us show you how the TS-3000i can be seamlessly integrated into any existing/previous platform by Amano. Trade-ins offered for other manufacturers solutions as well.
Assures financial institutions' compliance with FINRA OATS Rule 7430 (formerly NASD OATS Rule 6953 & NYSE 132A)
Automatically syncs directly to NIST or internal/external NTP time source
Stand-alone web based with Zeroconf Protocol
Minimal IT staff involvement
Quick and simple install
Event notification through SNMP traps enables network administrators to centrally manage time clock performance
Convenient system support provided by visible alarms on time stamp imprint and LCD display should synchronization not occur
Email notification of clock status and/or failure to synchronize time.
Power over Ethernet (PoE) optional accessory
No server/desktop software required
Transaction log files are maintained automatically in clock for up to 5 years with a normal sync schedule of 2 syncs/day and can be e-mailed, saved or printed as desired
Replicate the configuration of one clock to multiple clocks
Effectively manage up to 32 separate internal and external NTP time servers
Dynamic sync schedule of up to 12 times/day for improved accuracy
Time on clocks password protected - providing total security
Zero Configuration Networking (Zeroconf) is a set of techniques that automatically create a usable network IP without configuration or special services. This allows inexpert users to connect computers, networked printers, and other items together and expect them to work automatically.
Supports Dynamic Host Configuration Protocol (DHCP)
10/100 Base T Ethernet TCP/IP communication over existing network
Synchronization logging data maintained per FINRA OATS Rule 7430 requirements
Status, transaction, and configuration reports available
Prints alphanumeric custom comments
Automatic and/or manual print activation
Prints through up to 6 carbon copies
Maintains time less than 4/10 of a second over a 24-hour period once synchronized
Time imprint formats include seconds as per FINRA OATS Rule 7430 requirements
Power - 100/120/230 VAC +/- 10%, 50/60 Hz (with PoE option, no need for AC power)
Power Consumption - Normal 4.5W, Max. 20W
COMMUNICATION - 10/100 Base T (auto sensing), RJ45 network connection
Ambient temperature - 14°F ~113°F (-10°C ~ 45°C) - with FPR option, the temperature is 0°C ~ 45°C (32°F ~ 113°F)
Humidity - 10% ~ 90% (no condensation)
Dimensions - 6.9" H x 5.9" W x 6"D (176 H mm x 150 W mm x 153 D mm)
Weight - 5 lbs. (2.3 kg)

Thank you! We have received your message. An email has been sent to address provided. If you do not receive an email, please refill the form by refreshing page, or call (718) 784-4900 to discuss.
Request Your Quote Today: