OATS Time Stamps
Components
---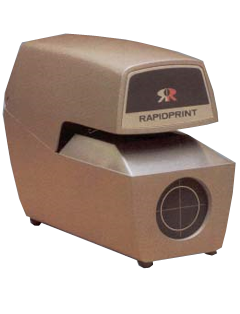 Rapidprint A-Series
Mechanical Time and Date Stamp
Heavy-duty design
Handles a wide range of paper thicknesses
Automatic ribbon advance and reverse
Electronically controlled printing provides a clean and instant registration
Sturdy cylinder lock prevents unauthorized tampering
Precision-made brass typewheels provide years of smooth operation
Heavy-duty synchronous motor ensures accuracy
Optional custom die plates allow for printing of additional information above and/or below the registration line



Questions? Call (718) 784-4900.
Documentation
Specifications
Professional Services:
Local Installation
Product Support
Certified Repair Center
Loan Units
Dimensions:4 11/16"W x 7 7/16"H x 10 3/16"D
Weight: 16 lbs.
Power supply: 115 volts ac - 60Hz
Throat Depth:
1 3/16" standard
1 9/16" max
1/8" min (with optional extended trigger)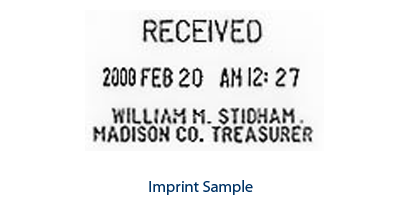 Rapidprint A-Series Time and Date Stamp
For imprinting a variety of time, date and message combinations. Print automatically when paper is inserted. Solid-state electronic circuitry assures consistent impressions. Adjustable stamping force for multi-copy forms. Easy change ribbons advance and reverse automatically. Rugged die-cast case has a sturdy lock to prevent tampering. Solid brass typewheels provide superior imprint and durability.
Model: AR-E - Basic time stamp
Model: ARL-E - with LED clock
Model: ARC-E - with analog clock
Model: AD-E - Basic date stamp
Numbering Machines
Whenever sequential numbering is required. Many options available for your application. Duplicate action, repeat switch and code wheels. Solid-state circuitry controls both the number advance and assures consistent impressions. These models stamp a number each time a document is inserted, then advance automatically. Ask for the ADN-E if both the date and sequential numbers are needed. Solid brass typewheels provide superior imprint quality.
Model AN-E - Numbering Machine
Model ADN-E - Date-Numbering Machine


Thank you! We have received your message. An email of this form has been sent to email address you provided. If you do not receive an email, please refresh this page to refill the form again, or call 718-784-4900.
Request Your Quote Today: