OATS Time Stamps
Components
---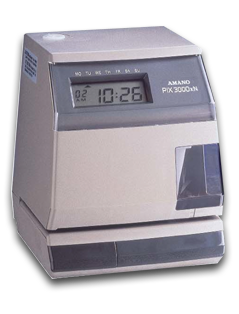 Amano PIX-3000xN/NT
Time Validation System
Pix-3000xN — Serial communication requiring ATC1000 Host or line driver communication with ATVS Software
Pix-3000xNT — True TCP/IP Network Time Stamp (predecessor to TS-3000i), requires ATVS Software
Maintain time within 4/10th of a second over a 24-hour period once synched
Time imprint format includes seconds per OATS NASD/SEC Rule 6953 requirements
Both clocks could be integrated into your current Amano solution



Questions? Call (718) 784-4900.
Documentation
Specifications
Professional Services:
Clock Configuration
Software Setup/Training
Project Implementation
Hardware/Software Support
Certified Repair Center
Loan Units As Needed
Dimensions:6.9"H x 5.9"W x 6"D
Weight: 5 lbs.
Power: 100/120/230 VAC +/- 10% 50/60 Hz
Power Consumption: Normal 3W, maximum 6W
Temperature: 14°F - 113°F
Humidity: 10-90%
Time Sync: Time synchronization with atomic time from NIST at least one per day

Environment: Indoor use only, dust free, no direct sunlight
Imprint Format: Y2K compliance and prints seconds (YYY/MM/DD HH:MM SS)
Time Deviation: Less than 4/10th seconds deviation per day
Pix-3000xN Serial/Pix-3000xNT Network Time Stamps
Amano Time Validation System (ATVS) provides traders with an electronic time validation system and time stamping device that meets OATS requirements for clock synchronization, Y2K imprint compliance, clock accuracy, and printing of seconds.
Released in 2009, Amano's newest addition to OATS Compliant Time Stamp technology is the TS-3000i web clock. A true 10/100 auto-negotiating network device capable of syncing to NIST automatically with no back-end infrastructure required.
»Learn More About Amano's New TS-3000i

»Learn More About Amano Time Validation System (ATVS Software)

Thank you! We have received your message. An email has been sent to address provided. If you do not receive an email, please refill the form by refreshing page, or call (718) 784-4900 to discuss.
Request Your Quote Today: