OATS Time Stamps
Components
---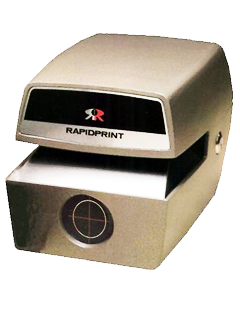 Rapidprint C724 Series
Mechanical Dual Head Time and Date Stamp
Accommodates virtually any printing head in the Rapidprint series.
The C724 prints a 6 digit number on the same line as the date and time.
Die plates are available to provide additional printed matter above or below the number, date, and time.
Time and day of month advance automatically.
Numbers advance consecutively and automatically each time an imprint is made.
Sturdy Lock to prevent tampering.
UL Approved.



Questions? Call (718) 784-4900.
Documentation
Specifications
Professional Services:
Local Installation
Product Support
Certified Repair Center
Loan Units
Dimensions: 7 1/2" H x 7 3/4" W x 10 1/4" D
Weight: 29 lbs.
Power supply:115 V / 60Hz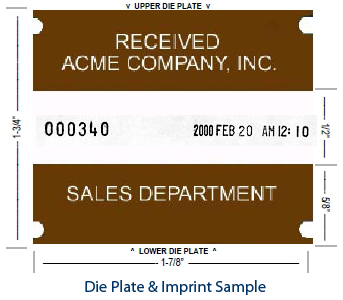 Rapidprint C724-Series Mechanical Time and Date Stamp
The Rapidprint C724-E Dual Head Mechanical Date, Time, and Numbering Machine Stamp allows for double print heads providing the most reliable Mechanical Date-Time and Numbering Machine Stamp all-in-one. The Rapidprint C724-E prints a 6-digit number automatically advancing the number on the same line as the date and time. These heavy-duty stamps provide maximum versatility - of operation and of print options and also allowing for quick recording on all your business forms from onion skin to 1/4" thick.
Popular Applications
Invoices, Bills of Lading, and Purchase Orders
Stock Receipts, Court Documents, Vouchers
Insurance Claim Processing
Police Department Telephone Complaints
Bank Passbooks, License Control


Available Models
Model C724-E - Time/Date/Numbering Machine
Model C724-LE - With LED Clock


Thank you! We have received your message. An email of this form has been sent to email address you provided. If you do not receive an email, please refresh this page to refill the form again, or call 718-784-4900.
Request Your Quote Today: