OATS Time Stamps
Components
---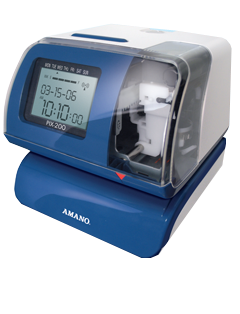 Amano Pix-200
Side Loading Atomic Time Stamp
Ability to receive the signal from atomic clock
Automatically changes year, month, date and DST
Ribbon ink capacity indicator
Programmable print styles, regular or military
Prints time in minutes, seconds, tenths or hundredths
Battery backup



Questions? Call (718) 784-4900.
Documentation
Specifications
Professional Services:
Local Installation
Product Support
Certified Repair Center
Loan Units
Dimensions: 6.4"H x 6.3"W x 6.7"D
Weight: 4.85 lbs.
Power supply: 100/120/230 VAC, 50/60Hz
Ambient temperature: 14°F - 113°F (-10°C - 45°C)
Humidity: 10% - 90%
Printing: Dot matrix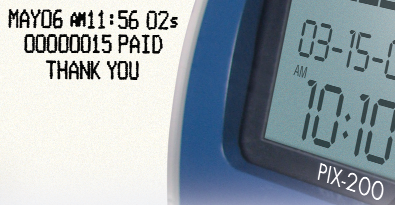 Electronic Time Stamp with Atomic Time Capabilities
The PIX-200 is an all-in-one electronic time recorder and date stamp designed to meet the typical needs and special requirements of contemporary business. The PIX-200 includes a wide variety of standard features and offers a set of optional accessories with unique functions. The clock is ideal for use in applications from simple time and attendance tracking to more sophisticated computer communication and time synchronization.
See Also: Amano Pix 3000x, Amano Pix 21
Need OATS Compliant Time Stamps? Check out the Amano TS-3000i


Thank you! We have received your message. An email of this form has been sent to email address you provided. If you do not receive an email, please refresh this page to refill the form again, or call 718-784-4900.
Request Your Quote Today: