OATS Time Stamps
Components
---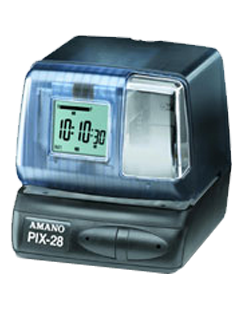 Amano Pix-28
Side Loading Electronic Time Stamp
Prints 4-digit year
Ribbon capacity indicator
Cartridge ribbon for easy change
Automatically changes year, month and date
Programmable print styles, military or regular time
Prints in minutes and seconds
Internal calendar automatically adjusts for Daylight Savings Time, leap years and short months
Programmable to allow for 6-digit automatic numbering
Automatic or manual print



Questions? Call (718) 784-4900.
Documentation
Specifications
Professional Services:
Local Installation
Programming & Setup
Product Support
Certified Repair Center
Loan Units
Dimensions:6"W x 5-1/2"H x 6 1/2"D
Weight: 4.2 lbs.
Power supply: AC 120V–10%, 60 Hz
Power consumption: Normal 3W, Max. 6W
Ambient temperature: 14°F - 113°F (-10°C - 45°C)
Humidity: 10% - 90%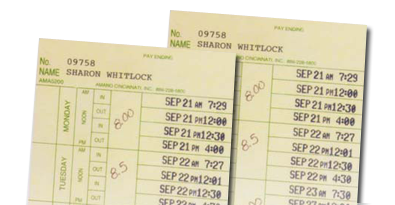 Engineered for value, simplicity and durability
The PIX-28 electronic time recorder delivers enhanced functionality including the ability to print four-digit year, seconds, and notations. The PIX-28 is ideal for small businesses requiring accurate accounting of employee time. Internal calendar automatically adjusts for Daylight Savings Time, leap years, and short months.
See Also: Amano Pix 3000x, Amano Pix 200
Need OATS Compliant Time Stamps? Check out the Amano TS-3000i


Thank you! We have received your message. An email of this form has been sent to email address you provided. If you do not receive an email, please refresh this page to refill the form again, or call 718-784-4900.
Request Your Quote Today: