OATS Time Stamps
Components
---

ATVS Software Brief:
Amano Time Validation System (ATVS) provides traders with an electronic time validation system and time stamping device that meets OATS requirements for clock synchronization, Y2K imprint compliance, clock accuracy, and printing of seconds.
ATVS is installed on a server or PC anywhere on your existing network. Accurate time is requested from public NIST domains over the internet with firewall access or from interval time servers, as desired. This time is then sent to the Amano time clocks as follows:
TS3000i - TCP/IP communication to device host name.
PIX3000xN - Serial com port broadcast signal over office CAT-5 cables.
PIX3000xNT - TCP/IP communication to Static IP Address.
Alerts in the form of emails and/or SNMP traps are sent to system administrators in the event of the failure to synchronize any TCP/IP time stamp or inability to acquire accurate NIST time from defined time source(s). Visual alerts, in the form of flashing arrows on the LCD's of devices and a black box on device imprint, occur on any unit not synchronized over a 24 hour period as required by OATS Compliance.
TS3000i units are easily imported into software for device synchronization using an auto discovery technology. Back-end system redundancy for all deployed network time stamps is easily achieved with a second software deployment using a duplicated database from the first software installation.
With ATVS Software Central Management, support and compliance record maintenance is easily implemented from central HQ office for all Amano time stamps deployed on client enterprise system.
Central Time Clock offers basic to full system integration and can assist to manage any size deployment. The ATVS solution was developed with the goal of being the most cost effective, unobtrusive, fully integrated certifiable OATS compliant time synchronization system.
Our Professional Services:
Configure/Deploy Clocks
Implementation & Project Management
Unlimited Telephone Support
Hardware Support & Service
To learn more call: (718) 784-4900
Full Order Audit Trail System (OATS) compliance
Automatic time synchronization to official source
Complete client/server based solution
Central host computer synchronizes time
Stand-alone time stamps not linked to workstation
Serial communication RS485/dedicated wiring
Multiple communication options to validation units
Ethernet communication TCP/IP/existing network
Time source via modem NIST
Time source via internet NTP
Log-in security with configurable application rights
Clock lock security against unauthorized users
Selectable number of synchs per day (2 min. required)
Clock synch runs as Windows® Service
Status, transaction, and configuration reports
Synchronization log data maintained
Email notification of clock status/failure
Event notification through SNMP traps
Full SQL database ODBC for extracting data
Easy software setup Wizard
Professional installation required
End-user installation possible
ATVS Configuration Software Features
Event notification through SNMP traps*
Automatic time synchronization to an official time source
Multiple communication options to time validation units
NTP (Network Time Protocol) synchs clocks to a time reference over a data network
NIST (National Institute of Standards & Technology) synchronization workstation via modem
Direct synchronization to the time source rather than to a computer workstation
Login security with configurable rights to sections of application
Full OATS compliance with stand-alone units not linked to a PC
Complete server-based solution, not on individual trader computers
Reports including status/error, transaction log, and configuration settings
Unlimited synchs per day for improved accuracy
E-mail notification of clock status and/or failure to synchronize time to chosen recipients*
Synchronization logging data maintained per OATS Rule 6953 requirements
Runs as a Windows® service to perform synchs*
Compatible with Windows® NT / 98 / 2000(ME) / 2003 / XP / Vista
Software supports three communication options and validation units:
PIX 3000xN clocks via Serial RS485 direct connection
PIX 3000xNT clock via Ethernet TCP/IP network connection - 10 half or full
TS 3000i clock via Ethernet TCP/IP network connection - auto-negotiating 10/100
As a Server Integrated: Designed for companies that require multiple clocks.
They could connect to the Network Time Protocol (NTP) server via internet connection (Scenario 1), or through their own internal network (Scenario 2). NTP is a protocol designed to synchronize the time on a TS-3000i and networks LANS/WANS solely across the Internet. An NTP time server is used to obtain the correct time from a time source and adjust the local time in each connected TS-3000i.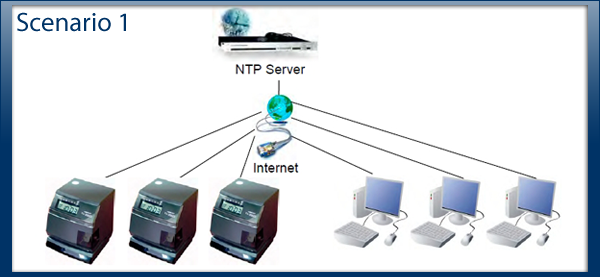 ATVS and the TS3000i Web Based Setup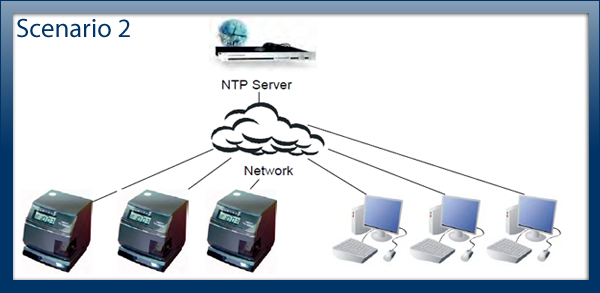 ATVS and the TS3000i Network Setup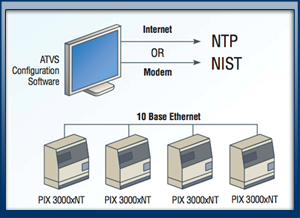 Amano PIX-3000xNT Enterprise Solution
The TCP/IP solution is a true Ethernet time stamp solution. It does not simply attach to a network workstation, as with other so called TCP/IP solutions. Each PIX 3000xNT and/or TS3000i time stamp has an internal NIC and is given an IP address for synchronization over your network. The network ATVS Software is installed on a server on your network.
The PIX 3000xNT time stamps are then deployed anywhere on your network. Each time stamp requires an active available network port set to 10 half communication speed, with network connectivity back to the single software ATVS Configuration Software installation.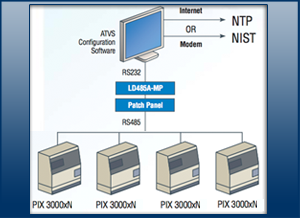 Amano PIX-3000xN Serial Configuration
The serial broadcast solution utilizes the same ATVS Configuration Software installed on your own server as the host, but, uses the PIX 3000xN time stamps. Instead of transmitting the signal to each clock over your network via TCP/IP, the signal would be transmitted via the 9-pin serial port of the single server.
This in turn would attach to provided line drivers and patch panels to the office cabling infrastructure on the trading floor going out to the clocks on the floor. The end-user can utilize standard CAT5 or better grade, straight cable—no special wiring required.
Note: All Amano time clocks can co-exist on the same server utilizing ATVS Software.
ATVS Requirements
ATVS Time Synchronization software (Standard version) for Windows may be used in conjunction with PIX-3000xN Time Recorders, PIX-3000xNT Time Recorders, and TS-3000i Time Recorder. The ATVS software may be loaded on any PC and/or server operating under Windows NT or later.
ATVS General Information
During the installation process, both the ATVS application and ATVS Scheduler application use the Setup.exe file and the same supporting files. The installation procedure provides simple instructions on each screen. It is important to follow these instructions carefully in the order for the ATVS to run correctly. End-users may never need to change the configuration settings created thru the wizard at a later time after the initial configuration setup. However, it is recommended that all configuration settings should be recorded in the event that the setup needs to be repeated in the future. ATVS Config cannot be running at the same time as ATVS Scheduler.