OATS Time Stamps
Components
---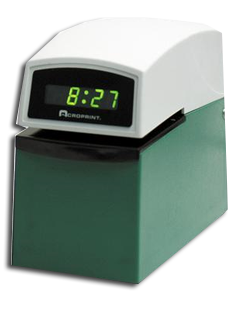 Acroprint ET Series
Mechanical Time and Date Stamp
Quality designed timing motor provides the highest accuracy
Electronically controlled printing assures clean instant registration
Print control adjustment allows for multi-copying
Precision metal typewheels designed to withstand thousands of registrations per day
Auto feed / reverse guarantees longer ribbon life
Impact / corrosion resistant case with security lock



Questions? Call (718) 784-4900.
Documentation
Specifications
Professional Services:
Local Installation
Product Support
Certified Repair Center
Loan Units
Dimensions: 7 1/2" H x 7 3/4" W x 10 1/4" D
Weight: 29 lbs.
Power supply:115 V / 60Hz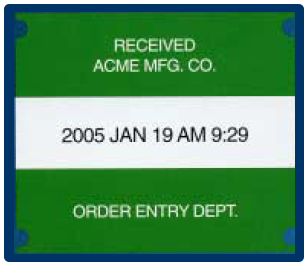 Acroprint ET Series is Easy to Operate
Inserting a document into one of these heavy-duty time stamps activates the sturdy automatic print mechanism, allowing convenient one-handed operation. Precision typewheels deliver a sharp clean imprint and can penetrate multiple copies. These stamps provide an efficient, cost-effective way to register year, month, date and time on important documents such as incoming mail, purchase orders and shipping/receiving documents.
The ET and ETC models are identical, except that the ETC also includes a bright, easy-to-read digital time display.
Popular Applications
Invoices, Bills of Lading, and Purchase Orders
Stock Receipts, Court Documents, Vouchers
Insurance Claim Processing
Police Department Telephone Complaints
Bank Passbooks, License Control


Available Models
ET - TIME AND DATE stamp. Prints time, month, date and year.
ETC - TIME AND DATE stamp with digital time display. Prints time, month, date and year.
EN - NUMBER stamp. Prints up to 11 digits.
END - NUMBER AND DATE stamp. Prints up to 6 digits, plus month, date and year.
EDN - DATE AND NUMBER stamp. Prints month, date and year, plus up to 6 digits.
ED - DATE stamp. Manual date advance, automatic printing.
E - TEXT stamp for signature or message
EC - CHECK SIGNER

Thank you! We have received your message. An email of this form has been sent to email address you provided. If you do not receive an email, please refresh this page to refill the form again, or call 718-784-4900.
Request Your Quote Today: